CLICK ON AN ARTIST TO THE LEFT for music previews, artist pictures, and biographical info.
eXpo is presented by The Shanghai Restoration Project (a US based group renowned for its fusion of Chinese instrumentation with hip-hop and electronica) and Neocha (leading online community of independent Chinese musicians and artists).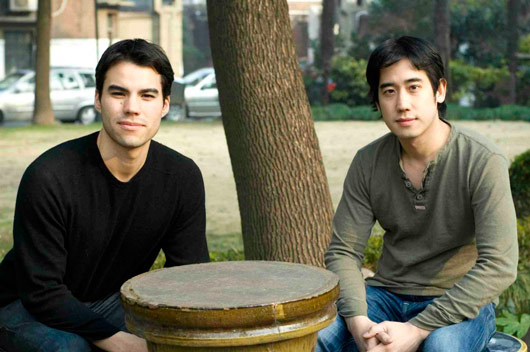 Producers Dave Liang of The Shanghai Restoration Project (seated right) and Sean Leow of Neocha (seated left) conceived of the project in early 2009 over coffee in Shanghai. After brainstorming ways to share China's burgeoning independent art scene with the world, they decided they would put together a compilation of Chinese electronic artists that would be released around the time of the 2010 World Expo in Shanghai. With over 70 million visitors expected to visit China during this time (May – Oct), there would be no better time to showcase some of the country's leading independent creative talent.
Special thanks to Lef, the graphic designer of the eXpo album cover and website.